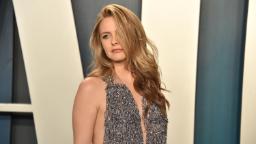 The "The Baby-Sitter's Club" star used the social media video-sharing app to share the correct pronunciation of her name.
She says it's "Uh-LEE-see-uh" in the short clip (typing it as "Ali-SEE-yuh" in the caption, as if things weren't confusing enough).
We haven't been so shaken up since we learned we had mispronounced Rihanna's name.
Silverstone had fun on TikTok, most recently reenacting with his 10 year old son a famous scene from his 1995 film "Clueless".